.de - the Domain for Germany
View Basket
Check Out
Click here for more info on .de domains
Search available .de domains
This Section Mandatory for all domain registrations
Read /
Agree

PLEASE READ THE FOLLOWING
BEFORE HITTING "ADD" ABOVE

I understand and agree that by submitting this form I am creating a work order. Upon submitting the registration order of the above domain name(s) I understand I will be billed per domain name to the credit card below by the Franklin Communications Services for my domain ownership according to the term I selected:
for .de
1 year - $25.95 per domain name;

I understand the above amounts are in US dollars
This charge is for the work order I am creating and is not reversable or refundable.
I understand that the name on my credit card statement for the above will be Franklin Communications Services.
I understand that I must pay for each domain name entered above
I agree to pay the above total amounts according to card issuer agreement.
I understand I will not receive a refund if I mis-order the number of years for the registration term
I understand the eligibility requirements: Registrant must have German Address. In cases where registrant doesn't have a German address, the admin-c contact must be domiciled in Germany and his/her full postal address must be communicated
To successfully register a .de domain name, the .de Registry requires that all registrants of .de domains supply a German address. If your address is not in Germany, we will use the Default Network Solutions Address which is in Germany.
Greifswalderstr 201a
Berlin 10405
DE

I agree that I am responsible for the spelling of the domain name(s) I am ordering.
I agree that I have double-checked that the domain name(s) are spelled exactly as I want them.
I understand the order is not reversable after I hit submit.
I understand I will not receive a refund if I mis-spell a domain name
I agree with the terms indicated in the Service Agreement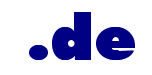 .DE Domain Names

.DE - Germany, to be used for commercial and personal sites

Restriction Summary: Registrant must have German Address. In cases where registrant doesn't have a German address, the admin-c contact must be domiciled in Germany and his/her full postal address must be communicated

To successfully register a .de domain name, the .de Registry requires that all registrants of .de domains supply a German address. If your address is not in Germany, we will use the Default Network Solutions Address which is in Germany.
Greifswalderstr 201a
Berlin 10405
DE

Use only letters, numbers, or hyphen ("-")

Cannot begin or end with a hyphen

The third and fourth Characters may not both be hyphens

Must have at least 3 characters, but less than 64, not including .DE

The .de domain is intended for use by the general public, companies or other organizations and can be used in the same way as a .com domain name can be used.

Technical Restriction: Name Servers must be set up in advance of domain registration and at least one of the domain servers must be on a separate class C Network. A sample configuration is
host 1: 195.166.101.110
host 2: 195.166.101.111
host 3: 195.92.252.145

Minimum Term: 1 year
Maximum Term: 1 year
must be renewed 11 days prior to expiration or they will be deleted within the month that the domain name expires. Renewals submitted after 11 days prior to expiration will not be accepted and no redemptions will be possible for these domain names when they are deleted.
Renewals for these domains can be done starting three months before the domain expiration date. Any renewal attempts prior to that period will not be successful.





Domain Register allows people, on a global basis, to search for available .com, .net, .org, .biz, .info, .us, .asia, .eu, .am, .ag, .at, .be, .bz, .cc, .ch, .co, .com.co, .net.co, .nom.co, .cx, .cz, .de, .fm, .gs, .hn, .in, .co.in, .net.in, .org.in, .firm.in, .gen.in, .ind.in, .la, .lc, .li, .me, .mn, .mobi, .ms, .mx, .com.mx, .co.nz, .net.nz, .org.nz, .pl, .sc, .tv, .tw, .com.tw, .net.tw, .co.uk, .org.uk, .me.uk, domain names. We perform a 'whois' in a user-friendly format. Once a desired available domain name is found, Domain Register allows people to order their domain name registration with the InterNIC on-line. This is also called URL registration, web name, website name, custom domain registration, dns registration services, net names registration, internet identity registration, or even sometimes internet business name registration.
Click here to see the list of U.S. States and Countries with which we've done business registering domain names!
Please email webmaster@domainregister.com
should you encounter technical difficulties with this site.
Thank you.
Privacy Policy
---
DomainRegister.com © 1997 - 2013 All Rights Reserved
info@domainregister.com

Premier Gold Partner


Website designed and hosted by: